Access to CDV Workshop
---
Where is Kyoto?
Kyoto is the antient capital city of Japan. It is in the middle east (Kinki district) of Japan (Fig.1). First, you will arrive at Kansai International Airport (KIX). See also the page of the airport " http://ks.kiis.or.jp/~kixinfo/kix.html".

Fig.1: Kinki District (Middle East of Japan)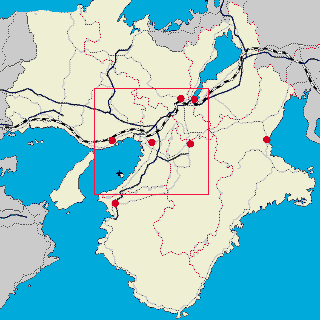 _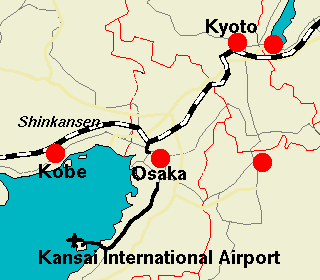 Kansai Internatinal Airport <--> Kyoto Station
From the Kansai International Airport, it is only a 75-minute ride to Kyoto Station by "Haruka", the JR-WEST(West Japan Railway) limited express train service. This express train directly connects between Kansai International Airport and Kyoto Station through Osaka. It is not necessary to change trains. The train fare is about 3500 yen. JR-West limited express "Haruka" information can be found at " http://www.westjr.co.jp/ekanku/ekframe.html".
Moving in Kyoto (to Kyoto Hotel and Kyodai-Kaikan)
It is convenient to access most places in Kyoto-City by using the City-Bus or taxi. From Kyoto Station to the hotel ( Kyoto Hotel),it takes about 20 minutes by City-Bus or taxi.

If you choose to go by taxi, it costs about 1500 yen from the station to the hotel. (We suggest that you take the taxi.) We have made "destination cards" to Kyoto Hotel and Kyodai-Kaikan. You may print out these cards and use them indicate to the taxi driver the place you want to go.

<!If you choose to go by City-Bus, bus number 206 brings you to near the hotel. You will get on the bus at A-2 bus stop, at the bus terminal on the north side of Kyoto station. And you get off the bus at "Takano bashi higashi dume (East end of the Takano bridge)". From there, it is only a few minutes' walk along the east side of Kamo river to the hotel. The bus fare is 220 yen. When you go to Kyodai-Kaikan, the same bus (opposite direction) will take you the to nearest bus stop "Kyodai-seimon-mae (Main gate of Kyoto Univ.)"(old name "Higashi-ichijo") and it is a 10-minute walk to the Kyodai-Kaikan from there.> If you choose to go by City-Bus, bus number 206 brings you to near the hotel. You will get on the bus at A-2 bus stop, at the bus terminal on the north side of Kyoto station. And you get off the bus at "Takano bashi higashi dume (East end of the Takano bridge)". From there, it is only a few minutes' walk along the east side of Kamo river to the hotel. The bus fare is 220 yen. When you go to Kyodai-Kaikan, the bus number 206 is also aveilable. You will get on the bus at A-2 bus stop, at the bus terminal on the north side of Kyoto station. And you get off the bus at "Kyodai-seimon-mae (Main gate of Kyoto Univ.)"(old name "Higashi-ichijo") and it is a 10-minute walk to the Kyodai-Kaikan from there. The bus fare is 220 yen.

Fig.2: Kyoto city map & location of the Hall and the Hotel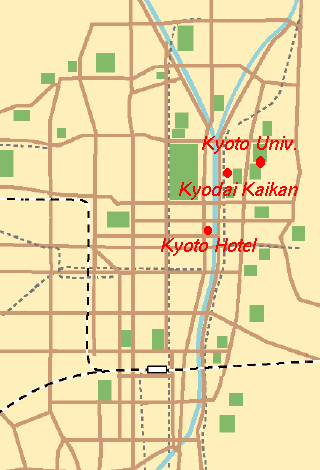 _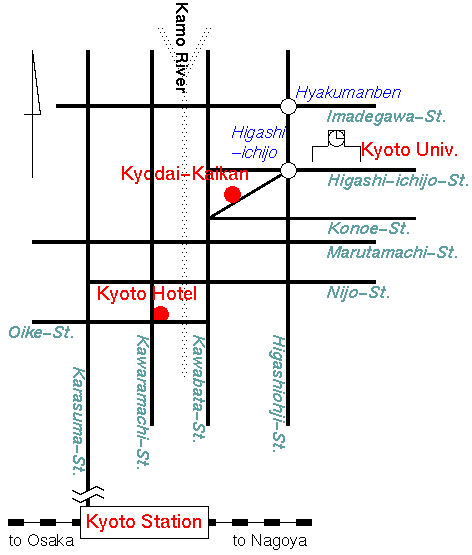 ---
Destination cards
To Kyoto Hotel




To Kyodai Kaikan